Originally posted on November 3, 2020 @ 4:47 pm
Bill Omar Carrasquillo aka Omi in a Hellcat is an American entrepreneur and a YouTuber.
Omi gained popularity from his YouTube channel where he parades his extravagant lifestyle. His channel has 735K subscribers who tune in to watch his vlogs and lifestyle videos.
Omi had humble beginnings as a pizza deliveryman. He then started reselling games and electronics after which he ventured into IT with a hosting business.
Omi hosted several games on his servers such as Minecraft and GTA 5. Additionally, he developed several apps. Afterward, Omi invested in IPTV where he started Gear TV Reloaded.
Learn more about Omi's net worth and lifestyle in our article below.
Net Worth and Income Sources.
Omi's net worth is estimated to be a whopping $50 million.
He makes his money from his lucrative TV streaming service on IPTV named Gear TV Reloaded. Moreover, he made a lot of money from internet hosting and making apps.
Additionally, he earns good money from the revenue generated from his various businesses like the restaurant business, real estate, construction, and his 2 night-clubs named Unicas and Philly 21.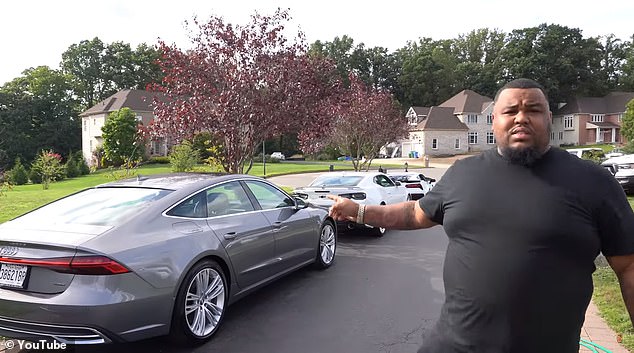 Houses, Cars, Properties, and Lifestyle.
Omi is known for flaunting his wealth on YouTube and social media. Thanks to his lucrative businesses, he owns an impressive inventory of cars and properties.
Omi owns several houses and his main residence is his Swedesboro, New Jersey mansion. The mansion boasts an English style with beautiful landscaping.
On the driveway, Omi parades his fleet of expensive luxury cars. In fact, he owns about 30 cars from brands like Lamborghini, BMW, Dodge, Audi, McLaren, Bentley, Mercedes, and Jeep.
Moreover, he owns a collection of expensive jewelry like chains, rings, and bracelets. Omi also owns a collection of Rolex watches.
Career Highlights.
Omi literally rose from rags to riches; from being a pizza delivery man for about 5 years.
He then started selling games and electronics. This venture led him to his next business where he started a hosting business where he had games like Grand Theft Auto and Minecraft. 
Omi then set his eyes on the booming television streaming business. He started his own streaming service with IPTV with the application named Gear TV Reloaded.
Omi also has a real estate business, a construction business, 2 clubs, and a restaurant.
Unfortunately, Omi ran in trouble with the law for copyright infringement and tax evasion. In 2019, the FBI raided his homes and seized his cars, money, and jewelry.