It is only logical to measure talent through success and to measure success through wealth. After all the biggest and the brightest names in the acting industry, all classified under the rich and the successful. It goes without saying that actors make a lot of money, enough to be known as rich people but who is the richest among them. Find out the latest list of the richest actors in Hollywood.
Adam Sandler: $340 Million.
Starting the list from the 10th rank is the actor, director, producer, writer and comedian Adam Sandler. The 51-year-old started out as a comedian but got a big breakthrough his role as 'Smitty' in 'The Bill Cosby Show'. He has starred in many big movies like 'Happy Gilmore', 'The Wedding Singer', 'Mr. Deeds' and 'The Waterboy'.
He has recently appeared in big projects like 'Grown Ups', 'Hotel Transylvania' and 'Pixels'. Adam Sandler is said to have a net worth of more than 340 million dollars. In 2017 he has also been ranked as the 4th highest paid actor in Hollywood earning a total of 50.5 million dollars.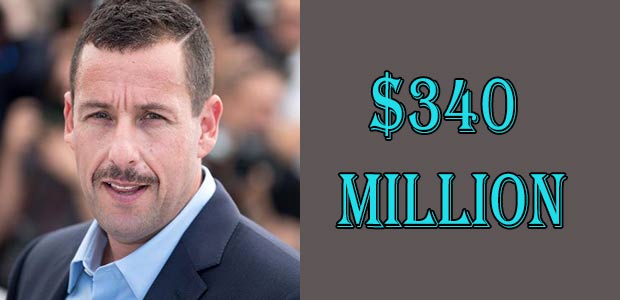 Keanu Reeves: $350 Million.
Keanu Reeves falls 9th on the list with a net worth of 350 million dollars. Keanu Reeves is a well-known actor, director, producer and musician who has starred in some iconic movies like 'Speed', 'Point Break', 'The Devil's Advocate' and 'The Day the Earth Stood Still'.
He is the lead actor in the successful 'Matrix' series. Even recently he has done some really successful movies like 'John Wick' in 2014 and its sequel in 2017. The 53-year-old shot to fame after an unexpected hit 'Bill and Ted's Excellent Adventure' in 1989. Keanu Reeves owns a lot of cars as a part of his wealth but he is more of a motorbike kinda guy and has his own Arch Company.
Clint Eastwood: $370 Million.
Clint Eastwood is certainly the oldest actor on the list current at the age of 87 years old. But don't let that fool you, with age you do not get any less rich. He started out his career since the 1950s and shot to fame in the 60s with one after the other western based movies the most iconic one being his 'the man with no name' in the 'Dollars' movie trilogy.
Although Eastwood has done some notable works in 'Mystic River', 'Unforgiven' and 'Million Dollar Baby' as an actor even more so as a director. He has given into full time directing since his last appearance in the movie 'Trouble With The Curve' and gone on to direct. He currently holds a massive net worth of 370 million dollars.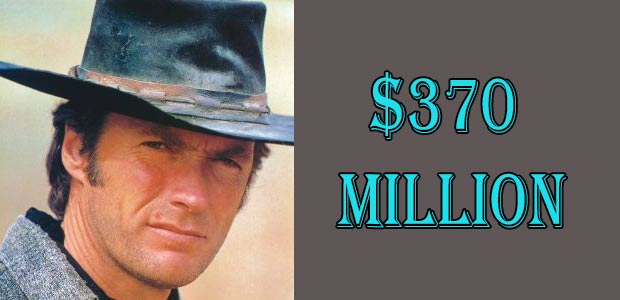 Bill Cosby: $380 Million.
Another veteran actor to the group is the 80-year-old comedian, actor, and author Bill Cosby. Most renowned for 'The Cosby Show' from the 80s and 90s, Bill Cosby is recognized as one of the most loved and positive actors of that time.
'The Cosby Show' remained the number one show in America for 5 straight years in the show's 8 years. He also appeared in various other shows like 'Fat Albert and the Cosby Kids' and 'I Spy'. He must have also done several other investments which joined earned him a net worth of more than 380 million dollars.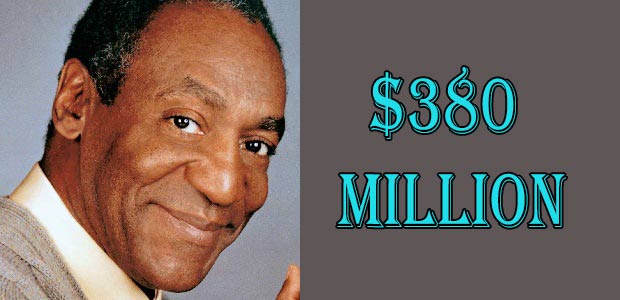 Tom Hanks: $390 Million.
The 8th position goes to the national treasure that is Tom Hanks. Tom Hanks has a net worth of said 390 million dollars and became 13th highest paid actors of 2017 with 31 million dollars.
He is considered one of the best actors of all time working in hit movies like 'Cast Away', 'Forrest Gump', 'Sully', 'Captain Phillips', 'Catch Me if You Can' just to name a few. He recently put on sale his estate a shared 11,000 square feet property of his house and his wife, Rita Wilson's house for 18 million dollars.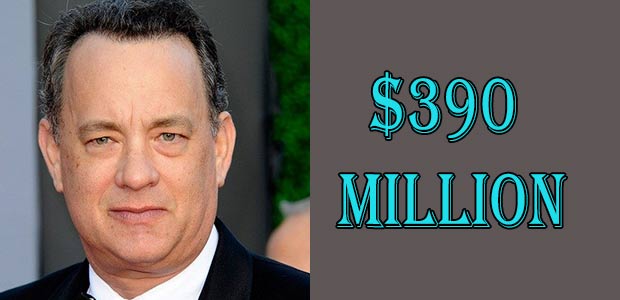 Jack Nicholson: $400 Million.
Jack Nicholson is another long-running actor in the industry. The 80-year-old actor garners an amazing net worth of more than 400 million dollars. He is known for his works in 'One Flew over Cuckoo's Nest', 'As Good as it gets' and 'Terms of Endearment'. He also has played iconic negative roles as Joker in the 1989 'Batman' movie and Stephen King's 'The Shining'.
Jack Nicholson owns a house that was once infamous for being 'the wildest house in Hollywood' but more than that he is famous for owning the previous house of Marlon Brando.
Nicholson brought the house for 5 million dollars from Brando just to demolish it and plant 'Frangipanni' flowers in them which was also his nickname used by Marlon Brando.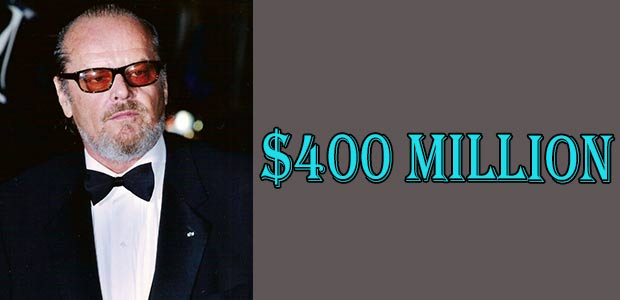 Tyler Perry: $450 Million.
Coming in 4th is the multi-talented actor, director, writer and producer Tyler Perry. He has a total net worth of more than 450 million dollars. He has worked in several movies some popular ones are 'Meet the Browns', 'The Family that Preys', and 'Why Did I Get Married?' He has held multiple careers and done several works to reach this place and is the richest black actor in Hollywood.
Johnny Depp: $450 Million.
Beating Tyler Perry by only a tiny margin is actor, producer and director Johnny Depp. Perhaps the most prominent actor to bring theatre in movies, he has acted in 'Edward Scissorhands', 'Sweeny Todd' and 'Alice in Wonderland'.
He also plays the beloved lead role of Captain Jack Sparrow in the 'Pirates of Caribbean' franchise. He has a total net worth of more than 450 million dollars, he received 185 million dollars alone for Pirates of the Caribbean movies.
Tom Cruise: $480 Million.
The rank for the 2nd richest actor of Hollywood is taken by the Maverick, Tom Cruise. Tom Cruise measures at a net worth of 480 million dollars. The 55-year-old actor is defined as versatile making hit movies of all genres. Some of his best works include romantic comedy 'Jerry Maguire' and action-packed 'Top Gun'.
His signature movies also include 'Mission Impossible' franchise he was paid 290 million dollars for. Tom Cruise is also one of the highest paid actors of 2017 coming in 7th in the ranking with his 43 million dollars in earnings. A big part of his wealth is his large car collections that include a Bugatti Veyron, 2 different types of Ford Mustangs and 2 Chevrolets.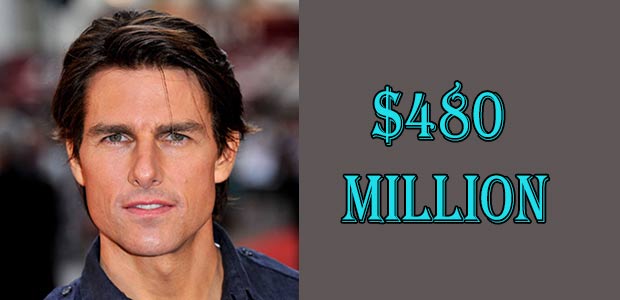 Jerry Seinfeld: $820 Million.
Jerry Seinfeld takes the number 1 spot in the list of top richest Hollywood actor. The 63-year-old is not just an actor but also a producer, director, writer and a stand-up comedian. Although he falls on the list of the richest actors, Seinfeld has relatively done few works the most notable one is the voice over for the protagonist in 'The Bee Movie' and the sitcom show 'Seinfeld'.
He holds a total net worth of an 820 million dollars and exceeds his rival actors by a huge margin in terms of wealth. A part of his earning comes from his business in cars as he is a big car guy. He loves several types of cars but his favorite is undoubted Porsche and he even buys, restores and auctions the Porsche some which sell for as much as 3 million dollars like his 1955 Porsche 550 RS.
He also owns one of the very expensive houses that has the rate of 32 million dollars.