For many people, religion passes as mere worship of the Almighty God. What they fail to see is that most pastors are reaping so big from the ministry. Many pastors in prominent churches in most parts of the United States are doing so well economically. They are making millions from their service. Some of the wealthiest ten pastors in America and their net worth are discussed below.
Bishop TD Jakes
Thomas Dexter Jakes was born on 9th January 1957. He is the bishop and the founder of The Potter's House. The church which operates in the USA is nondenominational American megachurch.
Apart from being a bishop, he is also an author and a filmmaker. The church is aired through Lighthouse.com, the Trinity Broadcasting Network, Black Entertainment Television and Daystar Television Network. He lives in Dallas, Texas and has been married to Serita Jamison since 1981.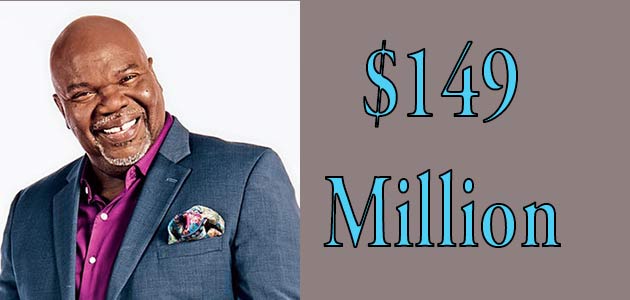 Bishop TD Jakes is the richest pastor in the USA. Bishop TD Jakes net worth is estimated to be $149 million. His net worth has been accumulated over time. He began ministering at the age of 23 and has risen in ranks over time until he is now a bishop. His primary source of income is through his service in the church and writing of inspirational books which are sold globally.
Pastor Benny Hinn Net Worth: $42 Million.
Pastor Benny Hinn was born 3rd December in 1952 in Israel. Hinn's family migrated to Toronto Canada in 1967 where he converted from Greek Orthodoxy to Pentecostalism and later joined the singing troupe.
In 1983, Hinn moved to the United  States, where he founded the Orlando Christian Centre. He founded the daily talk show in 1989 dubbed This is Your Day which is a healing and professing site. He  currently resides in California and has four children with his wife whom they divorced in 2010 and remarried in 2013
Benny Hinn is arguably one of the wealthiest pastors in States. Benny Hinn net worth is estimated to be $42 million according to Forbes magazine. He has accumulated his net through years in the ministering service. Benny Hinn is also an author of several books which have earned him a fortune.
Joel Osteen Net Worth: $39 Million.
Born on 5th March 1963, Joel Osteen significant sermons is ministered on television watched by over 8 million people weekly all over the world. He is a senior pastor at Lakewood Church, and he started preaching in 1999 through his father's constant pressure. Joel Osteen is also the author of the bestseller books all over the World. He lives with his wife Victoria Osteen and his two children.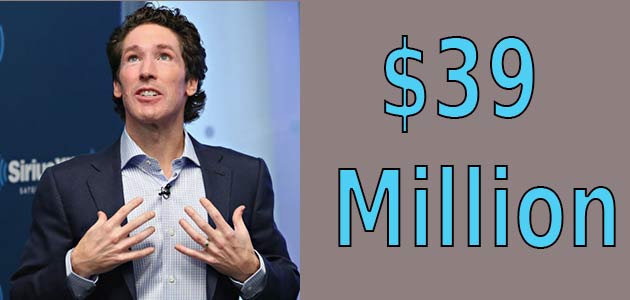 Joel Osteen is doing so well in the ministry. He is the third richest pastor in the United States. Joel Osteen net worth is $39 million and still counting. He has earned most of his wealth from preaching and his best selling books. He lives in a palatial house worth $10.5 million.
Creflo Dollar Net Worth: $27 Million.
Creflo Dollar is the American televangelist and a pastor. He is the founder of nondenominational World Changers Church International based in College Park, Georgia. Born on 28th January 1962, Dollar has done so well in the ministry, and he currently heads the Creflo Dollar Ministerial Association. He is married to Taffi Dollar.
Creflo Dollar is undoubtedly a rich man. He owns a private jet and a high-end real estate including a million-dollar home in Atlanta, a $2.5 million home in Demarest, New Jersy and another house in Manhattan. Although he has never disclosed his salary, Creflo Dollar net worth is slightly over $27 million. He has often been criticised for living a lavish life and has been a centre of controversy in the States.
Kenneth Copeland: $25 Million.
Kenneth Copeland is an American televangelist, author, musician and a public speaker. He was born 6th December 1936 in Lubbock, Texas and is the proprietor of the Charismatic movement.
He is associated with preaching the prosperity gospel; a move which has been criticised all over. Kenneth Copeland is the founder of Kenneth Copeland Ministries in Texas. The famed evangelist has been married twice, first in 1956 to 1958 to Ivy Bodiford and Gloria Neece since 1963  and has two children.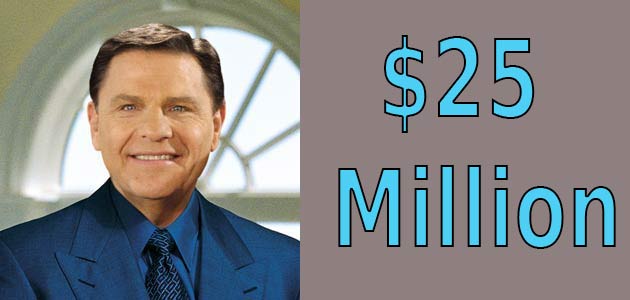 Kenneth Copeland is among the wealthiest clergy in America. Copeland ministries own three aeroplanes, one for flying within the country, another one for international missions and one for disaster management. He lives an abundant life in a palatial house worth over $5 million Kenneth has also written several books and has also appeared in several movies.
Kenneth Copeland net worth is over $25 million.
Billy Graham Net Worth: $25 Million.
William Franklin Graham is an American evangelist. He was born on 7th November 1918 and has been in the ministry for a lot of time and became famous in 1949. He is one of the most known television preachers having been on television for over 40 years now. Graham has preached to over 185 million all over the world and is regarded as one of the most influential people. He is married though divorced his wife Ruth Graham in 2000 and has five children.
Billy Graham is on the top list of the wealthiest pastors in the USA with a net worth of over $25million, according to Forbes Magazine. Billy Graham has done so well for himself. He was in the service for over six decades before retiring in 2005 due to health issues.  His net worth was also boosted by the many books that he wrote since 1947.
Franklin Graham Net Worth $25 Million.
Franklin Graham is an American Christian evangelist and also a missionary. He has frequently engaged in Christian revival tours and political commentaries all over the world. He is the president of Samaritan's Purse and even the CEO of the Billy Graham Evangelistic Association. Born on 14th July 1952, he is the son of Billy Graham. He is married to Jane Cunningham and has four children.
Franklin Graham, apart from inheriting from his father, has achieved considerable success in his preaching career. According to Celebrity Worth magazine, Franklin Graham Net Worth is $25million, not including the church assets and his hidden investments. Well isn't that a fortune for a preacher?
Rick Warren Net Worth $24 Million.
Rick Warren is an American evangelical pastor and author. He is the founder of Saddleback Church, and he is the senior pastor. The church is located at Lake Forest in California and the eighth-largest church in the USA. Rick Warren is also an author of several books which are best sellers Christian books. He has been married to Kay Warren since 1975, and they have three children.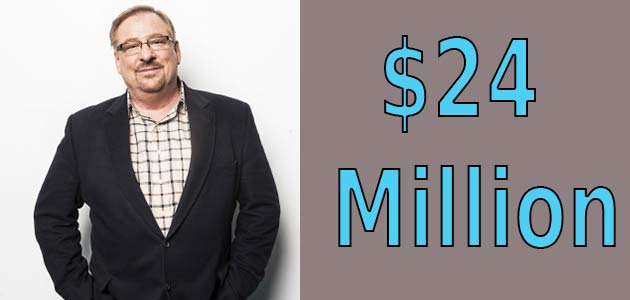 Rick Warren is definitely among the richest in the United States. Rick Warren Net Worth has been approximated to be about $24 million. He has earned a fortune from his mega-church and also from his best selling books which have sold millions of copies.
Juanita Bynum Net Worth: $10 Million
Juanita Bynum is an American televangelist in a Pentecostal church, author, television and radio personality, actress and a gospel singer. She was born on 16th January 1958 in Chicago. After high school she began preaching in some local churches and 1997, she was rose to fame when pastor  TD Jakes invited her to as a singer and his church where she gained notoriety.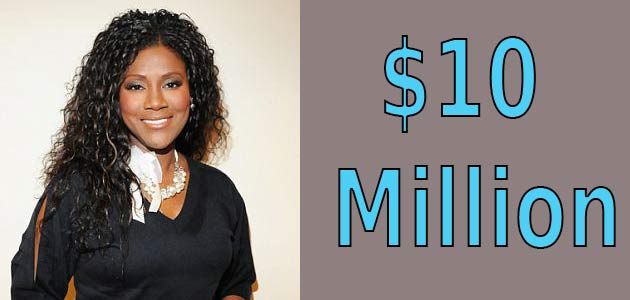 Juanita has made a considerable fortune for herself rising from being just a pure singer to a most coveted preacher. Juanita Bynum net worth is over $10 million. Her wealth has been boosted not only through her preaching but also her books which have become a bestseller, her appearance in movies and her songs.
Joyce Meyer Net Worth: $9 Million.
Joyce Meyer is a Christian author and also a gifted speaker. She is the president of Joyce Mayor Ministries, a church association that is tasked with spreading the gospel all over the World and helping the needy. Her husband Dave Meyer is also a preacher. She was born in 1943 and had four children.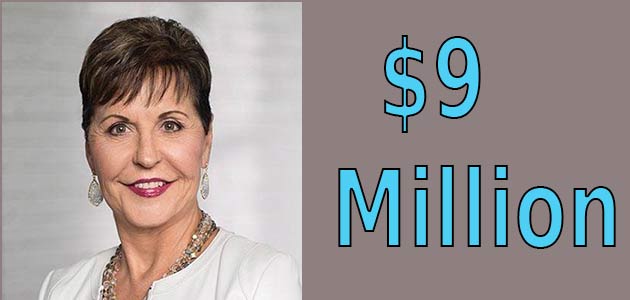 Joyce Meyer has made an enormous success from her church service. Joyce Meyer net worth in total is estimated to be $9 million. She has also earned a fortune from her bestseller books.