Originally posted on October 9, 2018 @ 12:09 pm
Shamele Mackie, who is popularly known in the music industry by the name Papoose, is a rapper and he was born New York City, USA. His emerged on screen for the first time in a commercial appearance in the year 1988 when the album Roots of Evil was released, that of Kool G Rap. He had gained popularity with that which further helped him in releasing his first single called "Thug Connection/Alphabetical Order." This single was appreciated by DJ Kay Slay at that time, and he was invited on air with him, and he also got the opportunity to get signed with Streetsweepers label. This is the time when he was releasing one mixtape after the other between 2004 and 2006. He also won the Award of Justo Mixtape Award for Best Underground Artist in 2005.
His popularity reached a new high when he appeared in Busta Rhymes' remix named "Touch It." The most recent release of his album "The Nacirema Dream" was popularly acclaimed by the music critics, and it also ended up featuring in the U.S. Billboard 200 at number 97. His recent controversy with Kendrick Lamar also brought him in the news and drew limelight to his personality as a celebrity.
Learn more about Papoose's net worth and house. Also find out married life, family, children, career, and wiki of this American Rapper.
Association with Music Record Labels
Papoose was first signed by Steertsweepers label around 2003 which was a music record label run by DJ Kay Slay and was popular at that time for launching new underground rap artists in America. After releasing his various mixtapes, Papoose got an opportunity to get signed under Jive Records, based in New York, for $1.5 million. This label was popular because of its association with high-profile rap artists and member of boy-bands back in the 80s. His association was also found with Top Dawg Entertainment (TDE) when he performed at the Summer Jam organized by Hot 97.
Papoose Parents
Papoose is of Liberian descent, and he was born and brought up in Brooklyn, New York, and his mother's name is Irene Mackie.  There are no sources that tell about his father, but it is said that his father's name as Gregory Hudgens. He got his name Papoose from his grandmother Vivian who thought that he looked like one Native American Baby, which is the meaning of the word Papoose.
Relationship Status: Married Life with Wife and Daughter
He married another rapper in the industry named Reminisce Mackie, also known as Remy Ma. His marriage happened inside the prison itself right before she was sentenced to jail which is potential for up to 15-25 years. He has featured in his wife's high-profile release of a music video called "All the way up" along with Fat Joe and French Montana.
Papoose also has a daughter Dejanie Mackie, born of a relationship with another woman but has her custody since she was born. She too is a budding artist currently studying in the USA.
Papoose Net Worth, Salary, Source of Income
Papoose has made 25 mixtapes in his present career, and that is the primary source of his income. Apart from that, he also features in various radio and TV shows. His net worth has been estimated at around $200,000. His association with famous artists like Snoop Dogg, Busta Rhymes, Shaq, Mary J. Blige, etc. adds on in his popularity increasing his worth in the industry.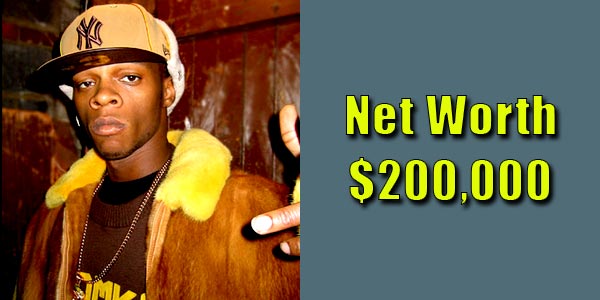 House and Cars in Papoose Net Worth
Being a celebrity, he chooses to live a high profile lifestyle in New York City. He also funds for his daughter's Education in New York. He is known for wearing heavy gold chains which tells that he lives his life lavishly.
Body Measurements: Papoose Height and Weight
Because of his on-stage appearances as a rapper, his body is quite flexible with a height of 1.80 M. He has black hair, and brown colored eyes and his body type is average.
How old is Papoose? His Age, Birthday
Born on March 5 in the year 1978, he has gained popularity quite early in his life as he just 40 years of age. His sun sign is Pisces, and he sure does have an artistic talent, just what they say about Pisceans.
Wiki Bio
| | |
| --- | --- |
| Name | Shamele Mackie |
| Date of Birth | March 5, 1978 |
| Age | 40 |
| Birthplace | Brooklyn, New York |
| Nationality | American |
| Profession | Rapper |
| Net worth | $200,000 |
| Salary | N/A |
| Height | 1.80m |
| Weight | NA |
| Wife/Spouse | Remy Ma |
| Children | Dejanie Mackie |
| Parents | Irene Mackie |