Originally posted on October 10, 2018 @ 12:04 pm
It all started with a six-second Vine video in which Cameron Alexander Dallas was doing a prank, and it became an internet sensation soon, and today we have him as a 'Social Media Personality.' That is what his occupation reads, and it is a real-time career option. Apart from this, he is also now starring in his self-starring Netflix reality series called 'Chasing Cameron' which was first aired in 2016. He is an American by origin and is popularly known for video compilation on Vine and YouTube.
The fame as increased so much that he is also called as 'Gen Z's Ashton Kutcher' since he radiates the similar kind of energy, that of the most popular guy in school. This good-looking superstar has more than 5 million subscribers on YouTube, 8.1 million followers on Vine, 20 million followers on Instagram and 15 million on Twitter.
Who is Cameron Dallas?
Cameron Dallas is a complete package as he is skilled in modeling, acting, making music, and has also participated in reality TV shows. He is proving out to be a social media star. It seems that he is all geared up to set his foot in the cinema world as he has already been cast by Brian Robbins in his movie 'Expelled' and later he appeared in the NBC thriller TV series called American Odyssey. He has worked with stars like Nash Grier and Caroline Sunshine in the movie 'The Outfield.'
He has won 2014, 2015 and 2016 Teen Choice Award for best Viner and Choice Social Media King. Then later he won 43nd People's Choice Award for Favorite Social Media Star in 2017.
Parents
He comes from an ethnic background as half Scottish and is the son of a single mother, Gina Dallas who herself was half Mexican and half German. His upbringing was done in Chino, California by his mother. He also has a sister, Sierra Dallas, who is four years old and also recognized on social media. Since childhood, he was encouraged by his family, and he used to make videos and vines for family and friends.
Cameron's mother used to work as a sales reporter for a newspaper company and often worked from home too. He expresses great gratitude towards his mom for his upbringing despite having a tough life for her self.
Relationship Status: Dating History with Girlfriend
He says that he is single to remain popular among his female fans, but he wishes to marry in the future and also have at least six kids. However, he has admitted that he had his first girlfriend in school named Jasmine. His followers, on the other hand, claim that there are rumors of him dating model Chase Carter. There also are romantic pictures of his with Sofia Richie and Rachel Bentley.
Net Worth and Source of Income
Cameron Dallas has an impressive net worth of $4.5 million, and he had earned his first million even before the age of 20. Social media advertising and promoting sponsored content on the internet from his account is the primary source of his income. Even Calvin Klein has also made him its new face.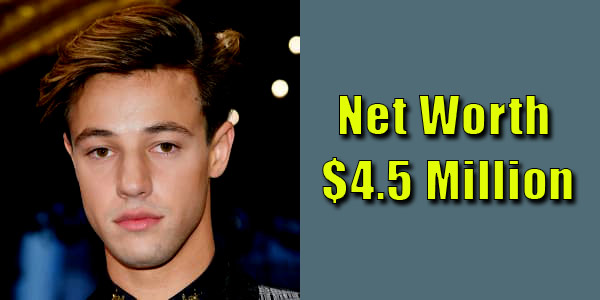 House and Cars in Cameron Dallas Net Worth
Cameron Dallas used to live with his mother in California earlier but once his career had this massive jumpstart, he has now shifted to Los Angeles and now rents an apartment with his best friend, Aaron Carpenter. He has been spotted driving a car at various instances.
Body Measurements: Height and Weight
Cameron Dallas has tried out his career in modeling as well. He is 1.75 m tall and weighs around 70 kgs. Reportedly, he has a teenage, boyish-looking personality that is popular among his female fans. 80 percent of his fans are females, and most of them are between the ages of 10-20.
How old is Cameron Dallas? His Age, Birthday
A Virgo by birth, Cameron Dallas was born on September 8 in the year 1994. At the age of just 24, he has become an internet sensation and a popular face among teenagers. It is a true sign of a Virgo that he was confident in the first place itself that his vine records would become viral and stir the social media.
Short Wiki Bio
| | |
| --- | --- |
| Name | Cameron Alexander Dallas |
| Date of Birth | September 8, 1994 |
| Age | 24 |
| Birthplace | San Bernardino, CA |
| Nationality | American |
| Profession | Internet personality, Actor |
| Net worth | $4.5 million |
| Salary | Not available |
| Height | 5 feet, 9 inches |
| Weight | 70 kgs |
| Wife/Spouse | Unmarried |
| Children | None |
| Parents | Gina Dallas |