Originally posted on August 12, 2018 @ 2:22 pm
Georges St-Pierre referred to as GSP is a legendary mixed martial artist. This Canadian MMA fighter has won three-times UFC Welterweight championship and was named No.1 world Welterweight Champion by Sherdog.  He was also named Canadian Athlete of the year in the years 2008,2009 and 2010.
Currently, No.5 on the official UFC pound-for-pound ranking GSP has bagged many records. Those include his career for "Most wins in title bouts," and while he defended his title consecutively 12 times, he held the record for the second longest combined title streak in UFC history. Georges retired in 2013, only to make a victorious entry into Octagon in 2017.
The estimated $25 million of net worth and an impressive figure of per fight income makes him one of the most financially successful players in Ultimate Fighting Championship.
Here we have a brief insight into his star-life.
Georges St-Pierre Parents
GSP was born to Roland and Pauline St-Pierre on 19 May 1981 in Saint-Isidore, Quebec, Canada. It was difficult to say whether sports had an interest in him or he had an interest in games. He was involved in various sports activities since childhood.
At the age of seven, Georges first started learning Kyokushin Karate from his father.  Later although he learned Kyokushin karate from a karate master to defend himself from the school bully.  His school days were rough. Other kids used to steal clothes and money from him.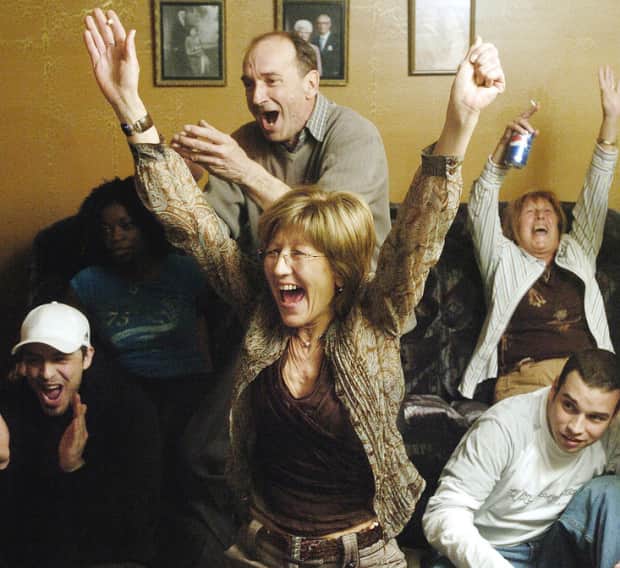 His father was his first master, after beginning from whom he started his long and fruitful journey to be called one day as one of the complete martial artists in the world.
Georges St-Pierre Relationship status, Spouse
Speaking about his personal life and relationship, there is not much known about private life. Earlier he had an affair with Lucy Onyeforo, although regarding his present marital status he is not much vocal in the media. But sources say that he is not married and is not having any children. For now, he seems to be only focused on his career, both in fighting as well as movies.
Georges St-Pierre Net Worth, Salary, Source of Income
Georges is believed to have a fortune of $25 million, currently. Most of his earnings come from fighting. With a huge fan following and once being world's no. 1 fighter, a battle has been a boon for him. He is known to earn $200,000 for just a show up along with an additional $200,000 win bonus if he wins. But this as the details reveal is not the crux of his income. Fight's Pay Per View (PPV) sales can be attributed to being the golden spoon.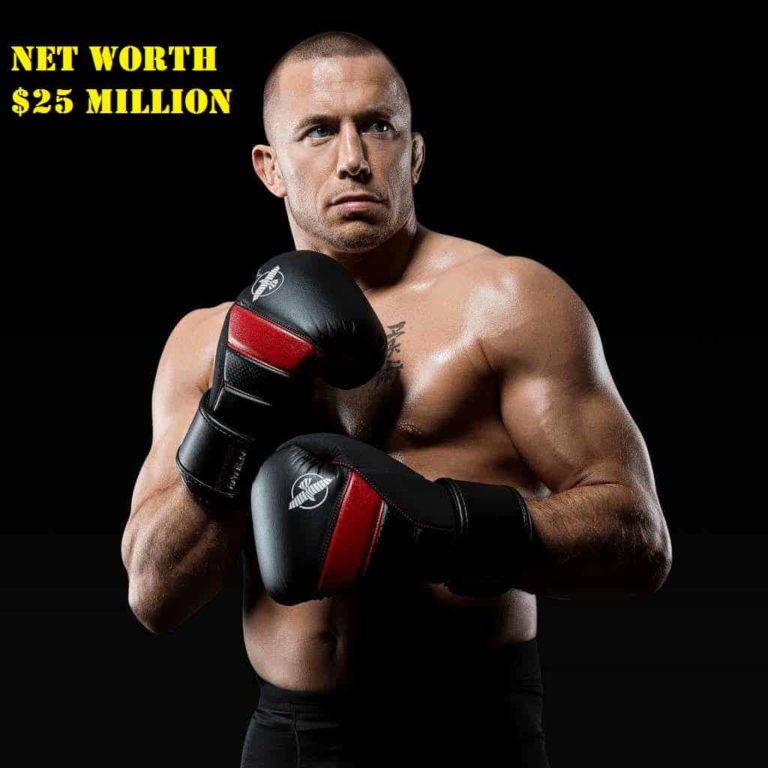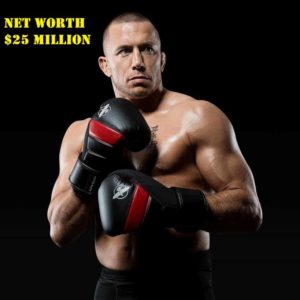 In 2013 alone, in UFC 158 Georges was believed to have earned around $3.25- $5.4 million. It was excluding the endorsement money he gets, which accounts for rest of his fortune except fight money. He has affiliations with companies like Under Armour, Bacardi, Electronic Arts, Hayabusa, NOS Energy drink, etc. Per fight, these endorsements earn him approximately $1-$2 million. If we talk annually total income of this fighting star, that would be around $12-$15 million.
House and Cars in Georges St-Pierre net worth
The MMA superstar has a designer house worth $4 million in Montreal, Quebec, Canada. His luxurious dwellings include a beautiful garden, large guest rooms except for the marvelous personal rooms and décor and evident for a fighter, an inbuilt gym.
Talking about his cars, he owns a Range Rover worth $50,000 and also a Lamborghini. But what seems from his driving habits, he is a Truck kind of person.
Georges St-Pierre Body Measurement | Height and Weight
This former three-times Welterweight Champion has a well-built fighter body that he says he has maintained with great disciple and hard work. What he means about his training is that he loves to train with better wrestlers, boxers and martial artists like practicing with more efficient men creates challenges and helps evolve better skills. With a height of 5 feet 10.5 inches (179 cm), he weighs of 170 lbs (77 kg).
Georges St-Pierre Age, Birthday
GSP was born on 19 May 1981. Currently aged 37, Georges is an energetic and vibrant figure in the martial arts community. Being well-aged and extreme dedication towards career building has helped him make himself a stalwart in the fighting profession.
Georges St-Pierre Short Wiki
Beginning his learning as a bullied kid, now George St-Pierre is an ultimate martial arts experts. He has mastery in many martial arts including Kyokushin Kaikan, Boxing, Muay Thai, Brazilian Jiu-Jitsu, and wrestling. He has been a pro-fighter for more than eight years now and holds a significant number of victory inside the ring which corroborates his dedication and challenge accepting attitude as a person.
Apart from his MMA career, he has a movie life too. He has portrayed in some of the most famous Hollywood movies like Captain America and kickBoxer etc. his performance in MMA has brought him a lot of acting attention in action movies.
Still in his 30s and unmarried GSP leads and hopefully, will lead a more successful career in future.
| | |
| --- | --- |
| Name | Georges St-Pierre |
| Date of Birth | May 1, 1981 |
| Age | 37 |
| Birthplace | Quebec, Canada |
| Nationality | Canadian |
| Profession | MMA fighter |
| Net worth | $25 million |
| Salary | Uncertain |
| Height | 5'10" |
| Weight | 77 kg |
| Wife/Spouse | None |
| Children | None |
| Parents | Roland and Pauline St-Pierre |