Originally posted on April 4, 2018 @ 1:40 pm
Brian Awadis, also known to the world as Faze rug, is a famous gamer and internet sensation. He is best known for uploading dangerous pranks on his YouTube channel, FaZe Rug that has taken the world by storm. His viral videos have enabled him to live a lavish life with overwhelming net worth. FaZe Rug lavish lifestyle is not all about net worth and riches but also beautiful partners like his current girlfriend.
FaZe Rug net worth
The young star started the channel back in July 2012 and had since then received a tonne of traffic with over 2 million views per day. FaZe currently has a net value of $1 million. His net worth is attributed to several sources of income, but the bulk comes from his YouTube channel. His hard work finally paid off as he now has over 7.9 million subscribers all contributors of his humongous net worth.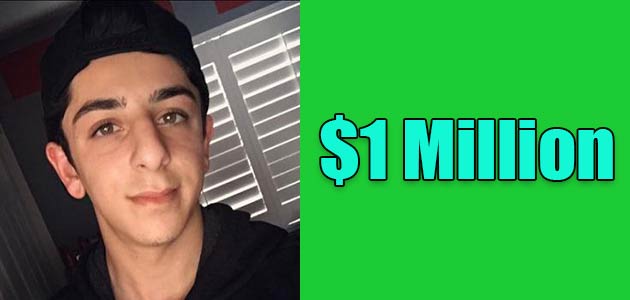 Other sources of income include his own line of apparel which is very popular with the youth. Fans can purchase hoodies, backpacks t-shirts, and all sorts of designer merchandise that he runs from his official FaZe online store.
He also receives a tremendous amount of income from his sponsorship deals and funders alike such as Fuel Energy formula. He also gains some revenue from prize money he gets in competitive gaming. If you were to add all of his earnings as his salary, then his million-dollar net worth is not that surprising.
FaZe Rug Career Highlight
The luxurious lifestyle of Brian started when he began uploading videos playing Call of duty on YouTube. As the number of subscribers grew, he dropped out of community college to focus on his new-found career. Being a full-time YouTuber meant he had to upload videos daily or often.
He started posting dangerous pranks that he sometimes performs with his brother. He also uploaded vlogs about different topics that include his family and brother sometimes. His fame and career skyrocketed when the pranks and vlogs went viral with over 2 million viewers a day on his channel.
Can you please tell Elle I miss her 😭 @AustinMcbroom @CatherinePaiz pic.twitter.com/kCR3y9MYBP

— Rug (@FaZeRug) March 6, 2018
Life pretty much changed for the YouTuber when his channels' subscribers blew up with over 1 Billion views on his videos. The revenue he earns from the videos is estimated to be $3,600 in a day totaling to over $1.3 million annually.
FaZe Rug House, cars 
With the recent video uploads that he has shared, FaZe is undoubtedly costly. From lavish gifts to expensive LA hotels, exotic and costly cars, he seems to have it all. His family and close friends seem to be the ones benefitting most from his wealth as seen by gifts ranging from $3,000 to $6,000.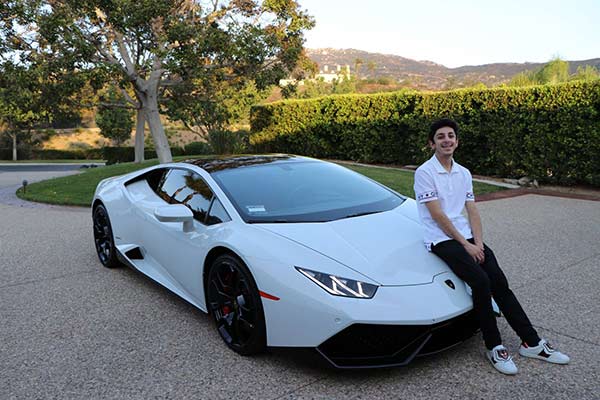 The young star has a sense of style and wears clothing from his favorite designer, Gucci. He holds a massive mansion in San Diego which is estimated to be worth $5 million that he lives with his family of four. The mansion parks two of his expensive cars, A range rover sport and a Lamborghini hurricane that he showcases on his videos. The vehicles are worth $300,000.
 FaZe Rug Dating life and girlfriend
Brian is currently in no confirmed relationship. One of his previous girlfriends was Molly Eskam, a YouTuber, actress, and model. He confirms they were indeed seeing each other but were never exclusively a couple.
He confirms that he had feelings for her and that it was never a publicity stunt. Faze Rug and Molly Eskam two spent a lot of time together at his place in Poway California as seen in videos of them running around the home or hanging by swimming pool. He even bought her a car once, and things got severe enough that he met up with his girlfriend's parents, videos of which have all been posted on his Youtube channel.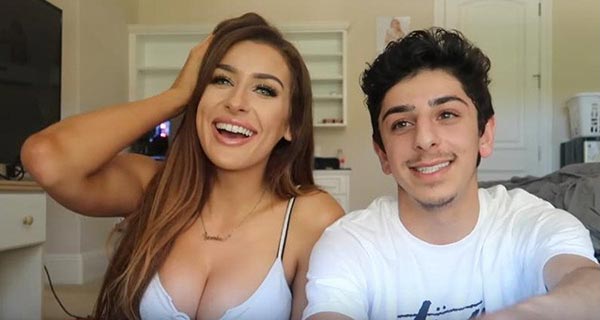 Before Molly Eskam, FaZe was with Kaelyn. The two were dating back in 2016 as seen through a video posted by Faze's brother Brandon on Snapchat. The footage revealed the two sharing a kiss which came as a shock to his fans.
However, in the video, it was clear that it wasn't a kiss and an accidental one at that. Brian and his mystery girl were posing with their tongues sticking out when the girl turned, and they accidentally had contact with their tongues.
You can see the girl scream and both FaZe and his brother getting surprised. Now that is what I call a happy accident, but we can understand how people will perceive her to be his girlfriend seeing that they looked very comfortable together and the girl was even sitting in FaZe's laps. Other than that, FaZe also has made a video with another one of his former girlfriends and it looked like they broke up on good terms.
FaZe Wiki-bio, age.
The 22-year-old was born on November 19th, 1996 in his hometown San Diego to Iraq immigrant Ron Awadis born on February 1964 and his mother whose name is still unknown. His parents go by the name Mama Rug and Papa Rug. He has a brother named Brandon born on June 23rd, 1995. He is also a YouTuber passionate about NBA. Brian is 5ft 7 in and of Asian American ethnicity.
Now you know about Faze Rug net worth, his house car, and girlfriend.
Quick Facts
| | |
| --- | --- |
| Name | FaZe Rug |
| Net worth | $1 million |
| Profession | YouTuber, Vlogger |
| Girlfriend | Mollu Esksham |
| Age | 22 |
| Birthdate | November 19th, 1996 |