Originally posted on November 17, 2018 @ 9:08 am
Farrah Abraham is a reality television show star, adult film star, and singer. She gained publicity and limelight in the year 2009, when she .' in the popular MTV show '16 and Pregnant'. She was also cast in the spin-off show Teen Mom and appeared in all its four seasons. Farrah Abraham also had a short stint in the show 'Celebrity Big Brother' as well.
Learn in details about actress and singer, Farrah Abraham's net worth, house, measurements, and dating history.
Who is Farrah Abraham?
The young Farrah Abraham started her career at the age of 17 when she was pregnant with her first and until now only child Sophie Abraham. She was cast as one of the main leads of the popular television show '16 and Pregnant' which was a reality series that portrayed the lives and struggles that young girls go through who become pregnant during their teens. The popularity of the show helped Farrah gain stardom and popularity even in the face of her troubled past. Later that year she was cast as the main lead in the spin-off show 'Teen Mom' and 'Teen Mom OG'.
Moving on from Teen Mom, she also appeared as an in-house contestant on the reality show 'Celebrity Big Brother' but could continue for only 23 days before she was voted out from the show. Other T.V shows that she has been a part of Being Farrah, Couples Therapy, Marriage Boot Camp and MTV'S Single AF.
After obtaining a culinary degree in the year 2011, she also launched her range of pasta sauce known as 'Mommy and Me.' The following year she ventured into the music industry and released her single album named 'My Teenage Dream Ended.' A book by the same name was also released after a short period which also gained immense popularity.
In the year 2013 and 2014, she acted in two adult films with adult film star James Deen. In the same year, she signed a $544,000 deal with Palazio's Gentleman's Club in Austin, Texas to own a residency there. She also released another music album 'Blowin' which did exceptionally well and gave her immense popularity.
She was part of the MTV show Teen Mom until 2018 when the makers of the show decided to oust her owing to her active participation in adult films. Apart from being a TV actor and a singer, she also has several sponsorships and brand endorsements in her kitty.
Parents
Farrah Abraham, an American Actress, was born on May 31, 1991, in Omaha, Nebraska to Michael Abraham and Debra Danielson. Her father is of Syrian and Italian descent and her mother is of Sicilian and Danish descent.
Relationship Status: Dating History with Boyfriends
Farrah was involved in a serious relationship with her high school boyfriend Derek Underwood with whom she has a daughter, her firstborn Sophia Abraham. Derek died in a car accident when she was eight months pregnant.
After that, she has never been in a serious love relationship with anyone else. She just had short-term relationships with Simon Saran and stuntman Aden Stay.
Net Worth and Salary
Farrah Abraham shot to fame with her stint in the television show '16 and Pregnant'. Since then she has acted in several TV shows including Teen Mom, Celebrity Big Brother, Being Farrah, Couples Therapy, Marriage Boot Camp and MTV'S Single AF. She has also acted in adult films and has also released music albums. Looking at her career graph, one can say that she is in a pretty good position regarding her career. Apart from her stint in acting and singing, she is also a part of several brand endorsements and sponsorships.
At the age of 27, she currently is one of the youngest multi-millionaires in the USA. Her net worth as estimated in 2018 is more than $1 million.
House and Cars in Farrah Abraham Net Worth
Farrah Abraham, one of the youngest multi-millionaires in the United States leads a grand and lavish lifestyle. She lives in an extravagant house which has the best interior and décor with all the latest amenities in it. She also has a range of luxury cars, the most recent addition being her Mercedes-Benz E63 AMG Sedan worth $100,000.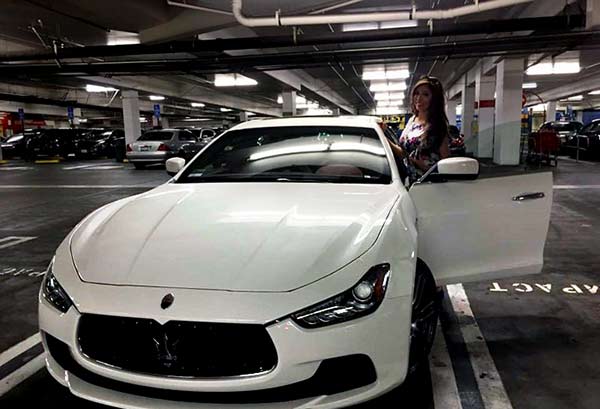 Body Measurements: Height and Weight
Farrah maintains her body just like her lavish lifestyle. Farrah Abraham is around 5 feet 7 inches tall and weighs roughly around 55 kg.
How old is Farrah Abraham? Age, Birthday, Birthdate
Born on May 31, 1991, Farrah is currently 27 years old. She is an American national, and her zodiac is Gemini.
Wiki Bio
Name
Farrah Abraham
Age
27
D.O.B
May 31, 1991
Place of Birth
Nebraska, USA
Nationality
American
Profession
Actor, Singer
Net Worth
More than $1 million
Height
Around 5 feet 7 inch tall
Weight
55 kg Approx
Children
Daughter – Sophia Abraham
Parents
Michael Abraham

Debra Danielson