Originally posted on December 24, 2017 @ 2:24 pm
How can you make $100 million annually from shows most people have never heard of? It's a head-scratcher. Well, it looks like Byron Allen has figured out the answer. Here's a close-up on Byron Allen Net Worth. Also, get to know more about his sources of income, house, and cars. But that's not all. The TV producer is married to wife Jennifer Lucas with three kids.
Who is Byron Allen? His Career Info
Byron is a Producer, a Company executive, a Talk show host and before all a Comedian. He founded Entertainment Studios in 1993 it's the primary source of income.
The company has about 75,000 square feet of production space in Culver City. He started his career as a stand-up comedian. And now he is the biggest independent Producer. Byron stated that he built his empire by himself from scratch as a black man he had to.
Now Byron's an excellent successful entrepreneur. With this net worth, his living level must be at its peak, but his private life isn't talked about. What are his hobbies, activities, and habits all are not available online yet?
Bryon Allen Net worth in 2019: $400 Million
Entertainment Studios is the primary source. The company has about 41 shows on the air like: "Comics Unleashed" "Beautiful homes and great estates" "America's Court" and many more. Byron Allen's net worth is estimated to be $300 million and rising.
In addition, it has about 7 TV Networks (Cars.tv-Pets.tv-Comedy.tv-Recipe.tv-ES.tv-Mydestination.tv-JusticeCentral.tv) and annual revenue of about $100 million. Now you know why Bryon Allen's Net Worth is so huge.
Its Headquarters is in LA, and it has offices in NY, Chicago, Denver, and Raleigh. In 2017 the company released the shark thriller "47 meters down" it was the year's highest-grossing independent movie. The movie went to 2.471 theaters and grossed about $45 million. Entertainment Studios still has a lot in its pack.
It has all rights to Blue Dream Studios animation "Animal Crackers," which premiered at the Annecy Film Festival in 2018. Byron's kingdom also announced the launch of its new streaming OTT subscription platform Sports.TV and it's projecting about 50 million subscribers over the world for about five years.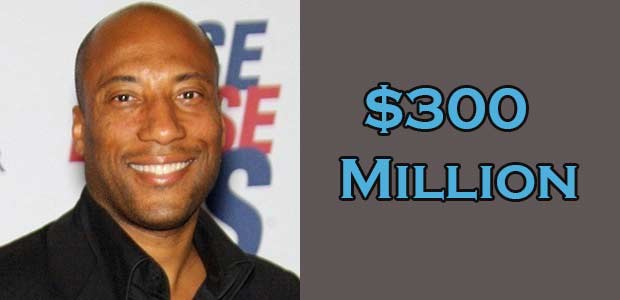 Cars and Houses in his Net Worth
Byron purchased a mansion in Beverly Hills for 17 million USD in 2012. Looking at Byron's net worth, you come to realize that it's a pretty good deal- at least for him-. The house is 12,717 sqft, it has seven bedrooms, ten bathrooms. And the neighborhood is surrounded by fellow celebrities like Tom Katie, Suri Cruise, and Steve Bing.
Byron Allen Married life, wife, and Kids.
Allen is a married man. He married Jennifer Lucas on September 2007 at the Bel Air Hotel Beverly Hills. Jennifer graduated from Cloud state university.
Jennifer is The Supervising producer at Byron's Company Entertainment Studios in LA. They have three children together, two daughters and a son: Chloe Ava born in 2008, Olivia Rose born in 2010, Lucas Byron born in 2012.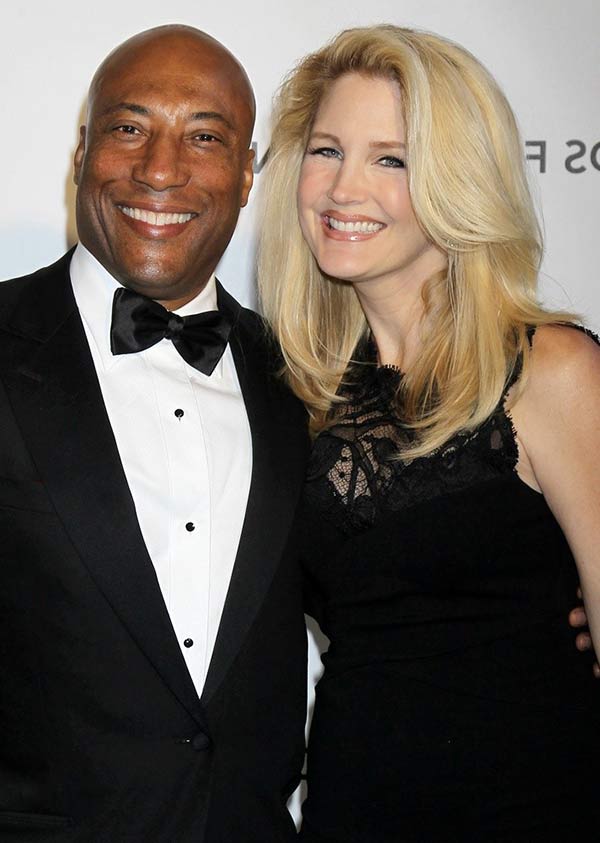 Byron Allen Age, Family, Early life, Wiki-bio
Allen was born on April 22, 1961, in Detroit, Michigan. He went to Fairfax High school. He was from a Middle-class Family.
His parents separated at the age of 8 years old, Byron then moved to LA, California, with his mother "Carolyn" as she took a job in NBC-TV. Carolyn would often take Byron with her to work, which was his first steps in the TV industry.
At the age of 14 he performed his first stand-up routine and from then started to show up in different comedy clubs in LA. Later he became the youngest comic to ever appear on the tonight show when he was 18. Allen then began his producing journey, and he's still on his right track.
Quick Facts
| | |
| --- | --- |
| Name | Byron Allen |
| Net worth | $400 million |
| Profession | Comedian, Film Producer, Talk show host, entrepreneur |
| Spouse | Jennifer Lucas |
| Age | 58 |
| Birthdate | April 22nd, 1961 |