Originally posted on November 8, 2020 @ 6:56 pm
Randy Moss is an American former football player and a current sports analyst. He was a wide receiver in the NFL for 14 seasons and is considered one of the greatest ever in the NFL.
Randy started his professional football career with the Minnesota Vikings after they drafted him in the first round of the 1998 National Football League Draft. Moss played with the Vikings until 2005 after which he was traded to the Oakland Raiders.
Randy was traded two years later to the New England Patriots. There he went on to set the record for most touchdown receptions in a single season.
Moss returned to the Vikings briefly 1n 2010 for a month before the San Francisco 49ers signed him for a 1-year contract in 2012. He retired the following season and later became a sports analyst.
To find out details on his net worth and lifestyle, keep reading the rest of our article.
Net Worth and Income Sources.
Randy Moss is revered as one of the best wide receivers in the entire history of the NFL. Consequently, he had a lot of demand when he was still playing in the NFL. As a player, he was extremely valuable and this translated into high salaries with the teams he signed with.
Randy Moss is estimated to have a net worth of about $25 million.
He has made most of his wealth from his professional football career. To illustrate, Moss is estimated to have received almost $83 million in total salaries. In 2008, he received his biggest contract deal which would see him earn $27 million for three years. Moreover, the three-year contract came with a signing bonus of $12 million.
Additionally, Randy made quite a lot of money from endorsement deals. He was the first player in NFL to sign a deal with the Jordan Brand from Nike. He also has an endorsement with Livewire Ergogenics an energy-chews manufacturer.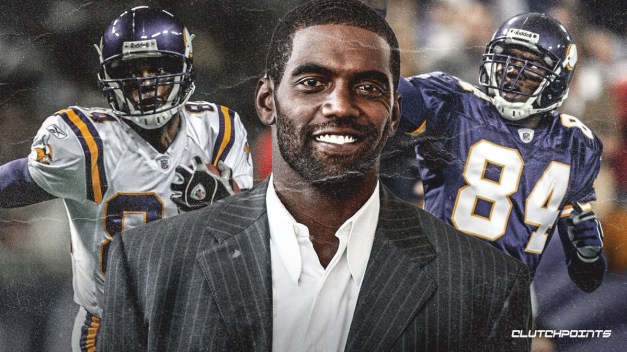 Houses, Cars, Properties, and Lifestyle.
Randy Moss is privy to the finer things in life that most people can only dream of. In 2008, he snapped up a 3,846 square-foot mansion for a cool $1,250,000. The palatial home sits on more than 4 acres of prime land in Lincoln, Rhode Island.
The house boasts a 3-car garage, 3 bedrooms, and 4 bathrooms. Moreover, it has a resort-style swimming pool that comes with a poolhouse.
Randy has a good eye when it comes to picking his rides. He has owned luxury cars from brands like Lamborghini. We can see him in one of his photos posing next to a black Lamborghini supercar.
Career Highlights.
Randy Moss got his big break in 1998 when he was drafted by the Minnesota Vikings in the NFL draft.
In 2007 he was moved to the New England Patriots and he went on to set a record for the most single-season touchdown receptions.
Randy then played with the San Francisco 49ers in 2012 after signing a 1-year contract after which he retired from the sport.
In 2018, Moss was inducted into the Pro Football Hall of Fame. Randy was hired as a sports analyst for Fox Sports 1 after he retired. He then joined ESPN as a sports analyst on Monday Night Countdown and Sunday NFL Countdown.