Originally posted on November 12, 2020 @ 11:36 am
Michael Jerome Oher is a 34-year-old former professional footballer. During his active days, he was known for being an offensive tackle in the National Football League.
Oher earned several unanimous All-American Honors when playing for the University of Mississippi. For the past years, he has played for the Baltimore Ravens (2009-2013), Tennessee Titans (2014), and Carolina Panthers (2015-2016).
Besides being a remarkable football player, Oher also authored the book, "I Beat the Odds: From Homelessness to the Blind Side, and Beyond." As you continue reading, prepare to find out the net worth Oher has amassed over the years.
Net Worth and Income Sources.
According to various sources, Oher's annual salary was rumored to be around $2.7 million before his retirement. Moreover, his salary was exclusive of all bonuses and other benefits. Since he started playing, he was able to make a total of $11.3 million from his career in the NFL.
Today, Michael Oher's net worth stands at $20 million. Oher has been able to expand his net worth through his years playing in the National Football League. His other source of income also comes from the sale of his book.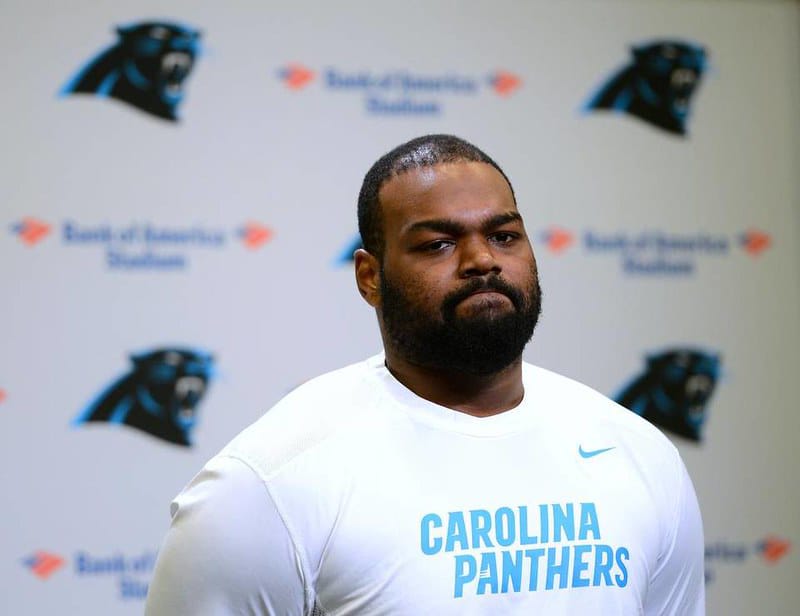 House, Car, Property, Lifestyle.
A few years ago, Michael Oher purchased a $1.3 million home in the Forest Hills of Davidson County. The 8126 square foot mansion consists of six bedrooms and eight bathrooms. Upon retiring from football, Oher decided to enjoy his fruits of labor by purchasing a 1970 Chevrolet Chevelle SS and a BMW 7-Series.
Career Highlight.
Michael Oher began his football career with the 'Ole Miss Rebels' team. Back then, he played the guard position. In 2005, Oher was awarded 'First Team Freshman All-American.' The following year, he also received a 'Second Team All-SEC.' From 2005-2008, Michael Oher received a total of 13 awards and honors.
In 2009, he was selected by the NFL, Baltimore Ravens and given Jersey number 74. 2013 saw Michael Oher win his first Super Bowl Ring after defeating the San Francisco 49ers.
In 2014, he signed a $20 Million Contract with the Tennessee Titans. However, he was let go in February 5th, 2015, before the end of the contract. The same year, he signed a $7 Million 2-year contract with Carolina Panthers.
In 2016, he extended his contract with the Carolina Panthers for three years at the cost of $21.6 Million. However, he was again released before finishing his contract.