Originally posted on September 6, 2018 @ 3:41 pm
Born Sir Robert Bryson Hall II in Gaithersburg, Maryland in the year 1990, Logic is an American rapper, singer, songwriter and record producer. Logic works mostly on the genre of Hip Hop. He has currently released three full studio albums and seven mixtapes. He has worked with famous names like Pitbull, Ludacris, Khalid, Marshmello and Alessia Cara. Logic is also known as Young Sinatra as he has said that he is influenced by a lot of Frank Sinatra and has even released three mixtapes under the name of Young Sinatra.
Learn about American Rapper, Logic married life, family, and children. Also get to know about this singer's net worth, wiki, age, height, and house.
Who is Logic?
Logic was named after his father, Robert Bryson Hall and the Sir in his name was given to him by his mother and are not a conferred title.
Before fame, he was known as Psychological even releasing an unofficial mixtape "Psychological: The Mixtape."
Logic came from quite a troubled family, and as a young child, he witnessed his brothers and father selling and buying narcotic drugs and his alcoholic mother and sisters getting beaten up by men under the influence of these drugs. Despite his terrible life situations, he tried to stay optimistic and see the positive side of the case. His experiences were made into lessons, and he does not shy away from showcasing these life lessons to the public.
He left his home at the age of 17, running away from his abusive mother and took up two small, odd jobs. He found comfort in music and started writing lyrics that expressed himself, his feelings and his experiences. His songs are highly personal due to this fact, but he never romanticizes nor glorifies his troubled childhood.
Logic himself has admitted to being profoundly influenced by Frank Sinatra's and Quentin Tarantino's music. His first breakthrough was his debut album Under Pressure which debuted at number four in the U.S. Billboard 200. All three of his studio albums have garnered enormous critical and commercial success. His third studio album, Everybody, debuted first at U.S. Billboard 200.
He is a member of the Rattpack and is signed under the well-known record label, Def Jam Recordings.
His studio albums namely, Under Pressure, The Incredible True Story, and Everybody were all huge commercial successes. So were his mixtapes: Young, Broke & Infamous, Young Sinatra, Young Sinatra: Undeniable, Young Sinatra: Welcome to Forever, Bobby Tarantino and Bobby Tarantino I.
Logic Parents
Logic was born to an African-American father, Robert Bryson Hall and a Caucasian mother. He was raised in a troubled family with his mother being a drug addict and an alcoholic, a father who wasn't always around and brothers who sold drugs for a living. He still is not on speaking terms with his mother, but he reunited with his father after he became a famous rapper.
Logic Relationship Status: Dating or Married?
At the age of 16, he got in a relationship with a girl, but after they broke up five years down the lane, he realized that the time and effort put into a relationship could not reap as many results as the time and effort put into work. He dated singer Jessica Andrea for two years before marrying her in the year 2015 and later separating in 2018.
Net Worth, Salary, and Sources of Income
Logic has an astonishing net worth of a whopping $14 million which garnered him considerable attention and even gained him a spot on Forbes' list of 30 Under 30 – Music 2017.
It is currently estimated that he has a fortune of about $10 million. According to sources, Logic had earned a little under $5 million in 2016.
House and Cars in Logic net worth
Until April of 2018, he lived in a grand mansion in Los Angeles. He called it a "game house" and even showed it off on an episode of MTV Cribs, and in a video, he uploaded on his personal YouTube channel.
In April 2018, soon after he filed for a divorce from his wife, he spent about $3.57 million to own a house in Calabasas, California.
Logic used to drive an Audi A4 earlier but recently has switched to the BMW i8. However, humble as always, he doesn't take his luxuries nor the house for granted.
Logic Body Measurement: Height and Weight
Logic stands stall at the height of 5'9" and weigh about 165 lbs. He has a slim body type and is a US size 10 in shoes.
How old is Logic? His Age, Birthdate and Birthday
Logic was born on the 22nd of January, 1990 in Gaithersburg, Maryland, US. Logic is currently 28 years old and is an Aquarian.
Short Wiki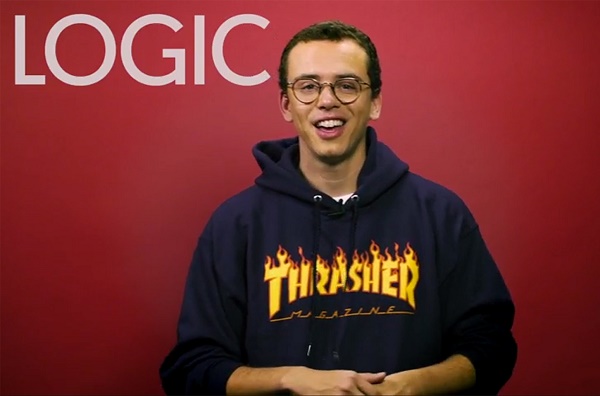 | | |
| --- | --- |
| Celebrity Full Name | Sir Robert Bryson Hall II (Logic) |
| Date of Birth | January 22, 1990 |
| Age | 28 |
| Birth Place | Gaithersburg, Maryland, U.S. |
| Nationality | American |
| Profession | Singer/ Rapper |
| Net Worth | $14 million |
| Salary | N/A |
| Height | 5'9" |
| Weight | 165 lbs |
| Spouse | Jessica Andrea (m. 2015, separated. 2018) |
| Children | N/A |
| Parents | Robert Bryson Hall |