Originally posted on August 6, 2018 @ 3:10 pm
American Rapper Lil Yachty is a rapper and singer from the United States who rise to fame and success within a short time in the American music industry. His Real name is Miles Parks McCollum. While you are here, you will get know all you want about the rapper's net worth, annual income, relationship status, lifestyle, and background.
Lil Yachty is an American hip-hop recording artist, a singer and a rapper who came into prominence with his singles "One Night" and "Minnesota" in August 2015.
His style of music has been described in different ways by various reviewers. His music is called 'mumble rap.' Lil Yachty himself describes his music style by calling it "bubblegum trap."
Yachty is gaining high popularity among the people who are drawn to his concerts in wild numbers. The audience at his concert is always found crazily singing and dancing along with the energetic hip-hop star. Lil Yachty has released two studio albums and two mixtapes which have the major contribution towards his net worth.
Lil Yachty has been nominated for two awards in the year 2017, namely Grammy Awards for Best Rap/Sung Collaboration and MTV Europe Music Award for Best Video. He was also engaged in few endorsements like appearing in Sprite commercial, new Nautica collection, etc. Talking about the controversies, he with one other man was arrested in 2015 under the pursuit of credit card fraud of which he came out after paying a bail bond of $11000. Later the charges were expunged.
Lil Yachty Parents
Lil Yachty is the son of Shannon McCollum, who has worked as a photographer. His mother, whose nickname is Momma Boat, has been in the army. He was named as Miles Parks McCollum by his parents, but he changed his name to Lil Yachty for his profession.
His father has stated that his son's music is for teenagers.
Lil Yachty Relationships status
Lil Yachty at first was rumored to be with India Love as he was seen in his video "Forever Young" with her. Later last year, it was revealed that he is dating an Instagram model, Megan Denise. Girlfriend Denise and Yachty had admitted their relationship and made a loving couple by the devoted fans of Lil Yachty.
Megan like Yachty too loved tattoos and has great looks.
Later in a viral video, it was seen that Lil Yachty had given all his jewelry to a girl named Rox Brown. It was thus rumored that Lil Yachty has broken up with girlfriend Megan Denise and this jewelry girl was his new girlfriend.
Lil Yachty Net worth, Salary, Sources of income
Hip-hop star Lil Yachty gained popularity when a comedy video got viral which had his song "One Night." The main source of his salary and net worth is the music he creates.
His early career was based on modeling where he debuted in Kanye West's Yeezy Season 3 fashion line at Madison Square Garden. A month after this event, released his first mixtape Lil Boat.
His real achievement came through when Yachty collaborated with DRAM on the hit song "Broccoli." Following this, he rose to stardom and his net worth kept going on high. This one went up to number 5 on the Billboard Hot 100. He featured on Chance the Rapper's Coloring Book mixtape and signed deals with music labels Quality Control Music, Capitol Records, and Motown Records. Lil Yachty released his second mixtape Summer Songs 2. He went on to be featured on singles "iSpy" and "From the D to the A" by Kyle and Tee Grizzlies respectively.
His net worth went further higher when in 2017 his debut studio album, Teenage Emotions was released.  While very recently, on March 9, 2018, his second album Lil Boat 2 was released. This one too was well acclaimed by the fans and added to his net worth. It is reported that Lil Yachty has collaborated with Takeoff and the album will be released this year.
His reported net worth is $12.5 million for the year 2018. His annual income for the past year had been $3.5 million.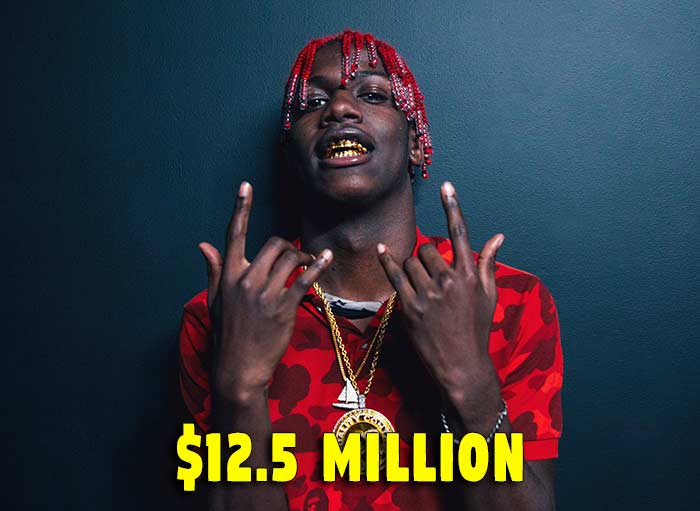 House and Cars in Lil Yachty net worth
Lil Yachty owns a few cars and lives in a well-equipped house in New York where he moved from Atlanta to make his music career. It is reported that Yachty likes Ferrari and he has gifted a house and a car to his mother. He stated, "I don't like spending money on women I don't know. I did buy my mother a Range Rover and a new crib. It feels good to say that."
Lil Yachty Body Measurement | Height and Weight
Lil Yachty has an average build, and his weight is 73 kg. He is 1.79 m tall with the following.
CHEST – 38 IN
ARMS / BICEPS – 12 IN
WAIST – 32 IN
Lil Yachty Bio
Name
Lil Yachty

(Miles Parks McCollum)

Age
20
Birthday
August 23, 1997
Birthplace
Mableton, Georgia, USA
Nationality
American
Height
 1.79 m
Weight
73 kg
Spouse
Unmarried
Children
None
Parents
Shannon McCollum