Originally posted on June 19, 2019 @ 5:13 am
Jeffree Star is a famous social media influencer, make-up artist, entrepreneur, and singer. He may be a beauty mogul associated with his fast-growing cosmetics line, but that's never the reason he makes headlines. Instead, celebrity news segments always feature his ongoing Twitter battle with Kylie Jenner, Kim Kardashian, and Kat Von D. Moreover; he also dishes out brutally honest exposés on his YouTube channel. Drama aside here's Jeffree Star's updated net worth in 2019.
Who is Jeffree Star? His Career Info
Let's go back to a time when YouTube wasn't the most popular video sharing platform. Instead, we had Myspace, a social networking hub that Jeffree Star made great use of. In fact, rankings in 2006 had him with the most active followers on the platform.
Initially, Star was an artist. More specifically, he was a vocalist of the pop and electronica variety. He used the platform to promote his music and other agenda like gay rights. By 2007, he had a studio album called Beauty Killer released through Popsicle Records.
The album's success got him under the radar of Akon's label Konvict Muzik which signed him. However, Star has gone on record several times to name it as one of the greatest mistakes he ever did. Evidently, his career faced the brink of collapse when the label came under fire with Akon's lawsuits between 2007 and 2010.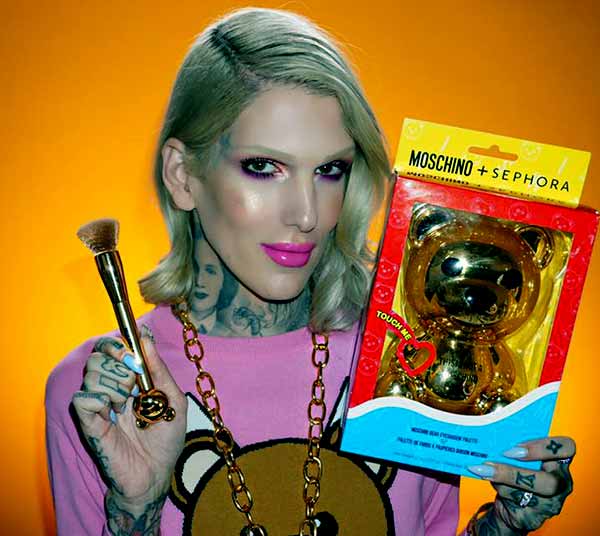 Nevertheless, with the little he had saved up, Jeffree funded his e-commerce line of business in 2014. He named it Jeffree Star Cosmetics and promoted it on YouTube which had now become widespread. Initially, the make-up guru collected his revenue at The Morphe Store in Paramus, New Jersey. However, now that he has gone international, his net worth knows no country barriers.
Work Highlight
Jeffree's career highlight in music was with the song, Lollipop Luxury which featured the famed rapper, Nicki Minaj. Other than that, he has four Extended playlists and four singles. Star's album, however, peaked at position seven on the Billboard Electronic Albums Chart.
On the other hand, his line of cosmetics and businesses have come to define his career much further than his music ever did. We're talking finances with 2018 being his best year since he cashed out $18 million by the end of the fourth quota.
It all started with the idea to design and sell a collection of velour liquid lipsticks. With the income Star generated, he plowed back some of the profits and invested in highlighter palettes, lip scrubs, and more. Eventually, he even ventured into designer make up bags and mirrors that reflect well on his net worth.
Consequently, there are always some minor setbacks in every investment. Jeffree's happened to be that of $2.5 million worth of merchandise stolen from his warehouse earlier in April this year. Luckily, one of the perpetrators has fast been arrested.
Jeffree Star Net Worth in 2019? $50 Million
Factoring in levied taxes, all assets minus liabilities we found that Jeffree Star's current net worth hit an all-time high of $50 million. The figure is also inclusive of his swiped goods. If you thought he achieved all these through selling make-up kits, then you couldn't be any more wrong.
The make-up guru reinvented himself in a vast line of chain businesses like marijuana supply. Overall, he has roughly ten companies that also include a shipment and fulfillment center. Couple all that with the money he makes of YouTube, and you have yourself a successful entrepreneur
Houses and Cars Details
Jeffree is openly gay and has had one partner, Nathan Schwandt, whom he lives within his, 7,100 square feet Calabasas home. The place has six bedrooms, seven bathrooms, and boasts of a massive kitchen space. He bought the house in 2016 for $3.6 million and decorated it entirely with the color pink.
Likewise, he did the same to his cars. Star owns a Tesla Model X, a Rolls Royce Wraith, a BMW Z4 and a Lamborghini Huracan. He even pimped out his blue BMW I8 and his Audi both to custom Barbie Pink according to his liking.
Quick Info
| | |
| --- | --- |
| Name | Jeffree Lynn Steininger, Jr. |
| Net worth | $50 million |
| Profession | Internet celebrity, make-up artist, entrepreneur, singer, songwriter. |
| Partner | Nathan Schwandt |
| Age | 33 |
| Birthdate | November 15th, 1985. |