Originally posted on June 29, 2019 @ 2:33 pm
Meet the reigning Queen of Country Music, Carrie Marrie Underwood. She's known to hit high notes and has often been related with the likes of Shania Twain and Faith Hill's music. Her queen title has been subject to challenges from other artists over the years. However, it all comes down to success measured in terms of finances. Luckily for you, we have Carrie Underwood's net worth and career down to very minute details updated in 2019.
Who is Carrie Underwood? Her Career Info
The country singer's prowess dates back to her home town in Muskogee, Oklahoma. Initially, she performed at the local church events and almost had a contract drafted with Capitol Records at 14. However, things didn't run as planned, and she dropped music entirely to pursue her education.
Fast forward to the summer of 2004, and Underwood auditioned for a role on the fourth season of American Idol. She performed ' I Can't Make You Love Me' by Bonnie Raitt and blew the roof off. Eventually, she won the competition and got her first recording contract.
Moreover, her net worth shot to a little over $1 million from the prize money she got. The following year saw her career unveil with her first album, Some Hearts in November 2005. According to RIAA who certified it Platinum eight times, the album was one of the best-selling country albums in over a decade.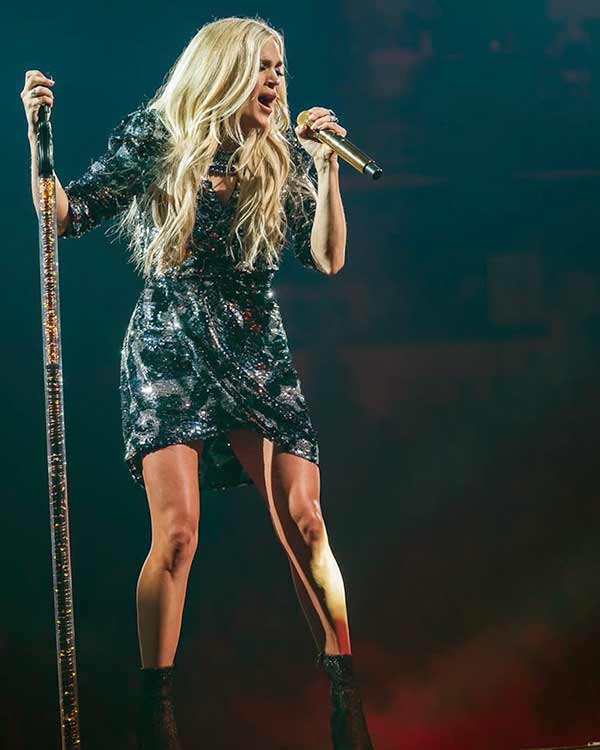 Carrie followed up her success with five other albums which performed just as well. She currently has multiple record deals with labels such as 19, Arista Nashville and Capitol Nashville. You can catch up with her in her World Tour Headlining her album; Cry Pretty in a country near you.
Work Highlight.
It's no shocker that Underwood's most famous track is a Christian song titled Jesus Take the Wheel. After all, she is one of those artists who is fluid across most genres. Consequently, her music has influenced the likes of Danielle Bradberry, Kelsea Ballerini, Lauren Alaina, and many more singers.
To date, her debut album, Some Hearts sold over 9 million copies worldwide. Following the success was her second, Carnival Ride which sold 4 million units. Others like Play On, Blown Away and Cry Pretty went as far as topping the US and US Country Charts.
To add on, some of her best singles include Undo it, Before He Cheats, Wasted, Little Toy Guns and many more. The singer also collaborated with artists like Brad Paisley in Remind Me, Miranda Lambert in Something Bad and Keith Urban in The Fighter.
Lastly, for her numerous contributions towards music, Carrie Underwood has seven Grammys and 11 Billboard Awards. She is also an inductee into the Guinness Book of World Records with 14 ACM, 13 AMA, and 9 CMA Awards.
Carrie Underwood Net Worth in 2019 is $65 Million.
Carrie Underwood work reflects a total net worth figure of approximately $65 million. Consequently, Forbes Magazine had her as the most successful American Idol Winner. Her songs have impacted the world in a way that had Time Magazine declare her as one of the 100 most influential people in the world.
So it's pretty evident that the country singer's net worth hails from her pipes. So far she has headlined 6 World Tours and Co-Headlined four more with other country artists. But wait there's more! Did you know that Carrie Underwood is also an actress?
She played Tiffany on an episode of How I Met Your Mother and a movie called Soul Surfer. So far, she's one of the highest paid American Idol alumni; even exceeding the judges Mariah Carey, and Keith Urban. Considering the lineup of endorsements from Skechers, Target, Nintendo, and many more at her disposal, her net worth is well deserved.
Houses and Cars Details.
Underwood is a mother of two and lives with her husband, Mike Fisher, an NHL player in Franklin, Tennessee. She bought the 2996 square feet estate in 2005 for $384K. Depending on the current market prices, it's probably worth millions now.
The house features three bedrooms, three bathrooms, multiple living rooms, one guest room a library, and a theatre room. However, when it comes to vehicles, the singer drives the Ford Mustang convertible that she won back in 2004 on American Idols.
Quick Info
| | |
| --- | --- |
| Name | Carrie Marrie Underwood |
| Net worth | $65 million |
| Profession | Singer, songwriter, actress |
| Spouse | Mike Fisher |
| Age | 36 |
| Birthdate | March 10th, 1983. |