Originally posted on May 21, 2019 @ 4:00 pm
For a guy who used to be 'The Answer,' Allen Iverson sure does crank up a lot of questions nowadays. He was once one of the most decorated athletes playing in the NBA but settled for an easy life after his retirement in 2013. Many media outlets stopped following up on him post-retirement, but we didn't. In fact, after digging through his once loaded coffers, we found out that the basketball player is not worth more than a newly drafted sports athlete. So what happened to his millions? Did he give them up for charity? Find out as we dive into Allen Iverson's net worth as of 2019.
Who is Allen Iverson? His Career Info
As a professional basketball player, Allen got fans cheering his name for 14 seasons in the NBA during his active years. But this feat didn't come easy. To begin with, 'The Answer,' born and raised in Hampton, Virginia by his single mother learned that the drug trade in the streets wouldn't do him any good.
Instead, he fully immersed himself in sports. Back in Bethel High School, Allen served both as a quarterback in the football team and point guard in the basketball school team. However, his career didn't pick up until a series of unfortunate events unfolded.
Iverson had to switch to Richard Milburn School after serving time for 'allegedly' maiming a mob. However, for lack of incriminating evidence, he was set free after four months. While at Milburn, the young athlete landed a scholarship to start his collegiate basketball career at Georgetown University in 1994.
The basketball player built up his score sheet and led the team to Elite 8 in the NCAA championship. After two seasons in the playoffs, Iverson got drafted into the NBA to play for the Philadelphia 76ers in 1996. This became his first professional stepping stone into building his career and net worth.
Work Highlight.
Allen's records have mostly accrued from his performances at Philadelphia 76ers. He spent a decade of his life from 1996 to 2006 playing for them and even returned in 2009 to play for a season. Overall, he was named Rookie of the Year and won an MVP award in 1999.
In every regular season, he managed an average score of 26.7 points and increased it to 29.7 making him second to Michael Jordan. Iverson also became NBA's Most Valuable Player in the 2000-2001 season after reaching the NBA finals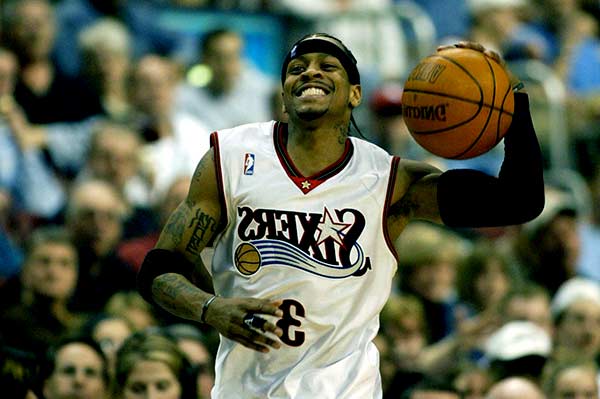 Nonetheless, he solidified his grip in the sport by playing for the Denver Nuggets (2006-2008), Detroit Pistons, Memphis Grizzlies (2008-2009) and Beşiktaş. (2010-2011) After a suffering a calf injury in 2010, he returned from the Turkish team and turned down a deal from the Texas Legends in the D-League. His retirement came in October 30th, 2013 when he stated that he had lost interest in playing.
Allen Iverson Net Worth 2019 $20 Million.
It's disappointing to learn of the former athlete's current financial constraints. Considering he scored salary deals with Detroit Pistons for $20 million, Denver Nuggets $19 million and Beşiktaş for $4 million. Sources have it that Allen Iverson, once a pride of the NBA, now holds a net worth figure of approximately $1 million.
So where did all the millions disappear to? Well, 'The Answer' is known to take on expensive vacations and cruises to exotic islands. Moreover, he has also had a few legal issues ranging from fines, court orders to pay alimony and several lawsuits.
There are those that have already branded him as broke citing his rags to riches and back story. However, let's not forget that the former athlete still has a lifetime deal with Reebok. The contract pays him $8K a year and $32 million when he turns 55. Another source of income is Allen's current day job as the player-coach for the BIG3 company.
House and Cars Details
Even though Iverson is neck high on bills, he still sports a luxurious lifestyle with a mansion in Atlanta worth $4.5 million. Another set of villas also exist in Denver and another in Cherry Hills, Colorado. His net worth is also a total sum of the assets he owns including cars like the Bentley GT, Hummer H1 Alpha X, and Cadillac Escalade.
| | |
| --- | --- |
| Name | Allen Iverson |
| Net worth | $1 million |
| Profession | Former NBA player |
| Ex-wife | Tawanna Turner |
| Age | 43 |
| Birthdate | June 7th, 1975 |