Originally posted on June 9, 2019 @ 12:40 pm
Hip-Hop music has evolved over the years, and with it comes a new band of artists to usher us in into a new era. That said, meet Nayvadius DeMun Wilburn or professionally known as Future. He may be in his mid-thirties but knows how to appeal to the younger generation. Moreover, as a rapper, singer, and record producer, the artist has been in the music industry for a decade to deliver a new clear cut style of rap. This piece will give you a summary of Rapper Future's net worth with regards to his career.
Who is Nayvadius DeMun Wilburn? (Future) His Career Info
For the longest time, Future had been part of a musical family group; The Dungeon Family and with them grew his musical talents. After consistent nudges from his cousin Wade, he spread out his wings and started a career of his own.
His first record label signing was in A-1 Recordings back in 2009. However, after a few mixtapes, he still didn't get the recognition he sought up until another record label, Epic Records cut him a new deal in 2011.
The rapper released three albums within three years that sold millions of copies worldwide. His name fast grew, and his style could be heard all over. He did a couple of collaborations with other artists like Gucci Mane, Kanye West, Rihanna, Drake and many more. Not only did his name rise the Billboard Charts but his net worth as well.
Work Highlight
In early February 2019 at the Grammy Awards, Future snagged himself a Grammy for Best Rap Performance. It took a long time coming, but with seven studio albums and five mixtapes in collaboration with renowned artists, nothing would hinder his success. That said, let's dive into his Discography.
The rapper released his debut studio album called Pluto back in 2012. Its reception was accommodating as his style of Auto-Tune had long been fading with the likes of T-Pain. He went on to release six other studio albums like Honest, DS2, Evol, Hndrxx, Future and his latest The Wizrd in 2019
In addition to that, some of the artist's best tracks include Mask Off, Stick Talk, Codein Crazy and I Won Feat Kanye West. His self-titled fifth studio album achieved Platinum status and shattered records. His songs not only tell a story but have also been used to describe other stories. For example, his track King's Dead was used in Marvel's blockbuster hit Black Panther back in 2018.
Furthermore, the Musician also credit's his net worth from successful collaborative mixtapes like Beast Mode featuring Zaytoven. Others include What a Time to Be Alive, Super Slimey and Wrld on Drugs featuring Drake, Young Thug, and Juice Wrld respectively.
 Future Net worth 2019: $30 Million.
Current statistics report that Future amassed a net worth of approximately $30 million. His annual salary rises each year with $30 million recorded in 2018 making him one of the highest paid rappers. By now, you must incline as to where it originates.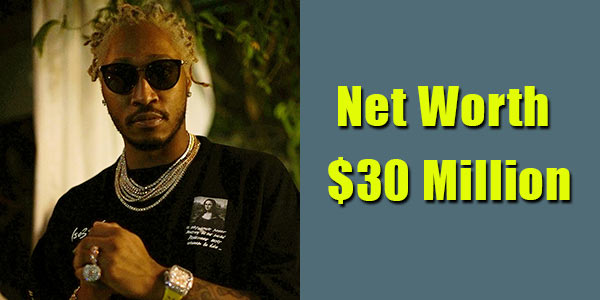 Much of it comes from albums and record sales as well as royalties from his Record Label through music streams and more. However, it's also worth mentioning that he brings in the green through world tours, live events, performances as well as brand endorsements with Reebok.
House & Cars details.
If there's one thing Future loves to show off, it's his cars and jewelry. More often than not, you'll get to see him sporting Rolex watches, and sports cars in his music videos. He owns a Mercedes Maybach, A Bentley Continental GT, one Bentley Flying Spur, a Porsche 911 Turbo S, Lamborghini Aventador and A Rolls Royce which he gifted to singer Ciara.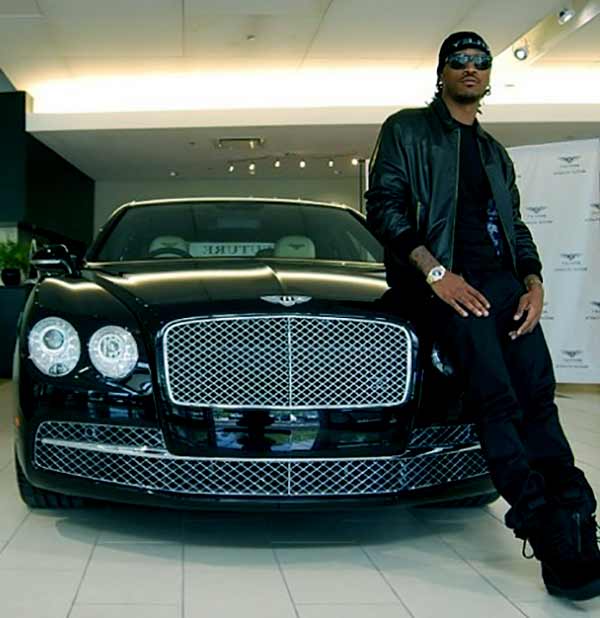 When he's not too busy on Tour or in the Studio, the rapper lays back in his Atlanta Mansion. He also has a home in Miami and another in Los Angeles where his ex-fiance Ciara lives. Future also pays child support to his baby mama's for their upkeep and also pays to keep a roof over their heads.
Quick Info
| | |
| --- | --- |
| Name | Nayvadius DeMun Wilburn |
| Net worth | $30 million |
| Profession | Rapper, Singer, Songwriter, Record Producer |
| Spouse | Ex-fiance Ciara |
| Age | 35 |
| Birthdate | November 20th, 1983 |